What Is MTK Droid Tools?
MTK Droid Tools is a free tool that allows MediaTek Android users to root their android devices and create scatter files for flashing MediaTek devices. It also allows you to backup your device's system files. You can create a backup of your device's stock firmware through this tool. Download link for MTK Droid Tools is provided at the bottom of this page. if you want to download MTK Droid Tools latest updated version 2019, then follow the link given at the bottom.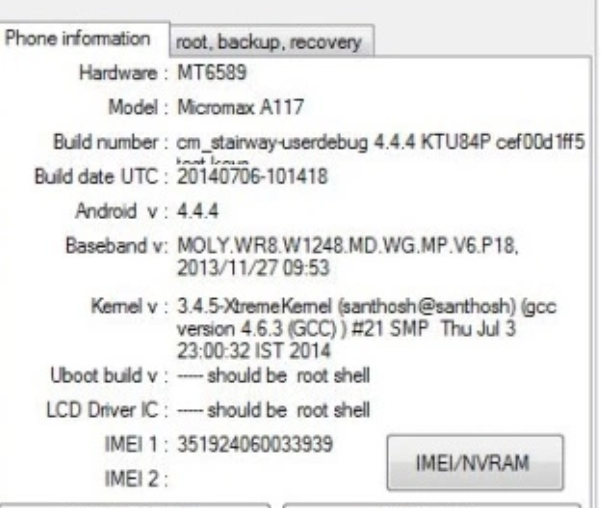 MTK Droid Tools Features
Root Your Android Device: MTK Droid Tools allows you to root your MediaTek Android devices.
Backup: It also allows you to backup stock recovery on your android device.
Stock Firmware Backup: The best and most powerful feature of this tool is that It enables you to create a backup of the system files and save it on your computer.
Scatter File Creation: It also enables you to create blocks and scatter files to flash MediaTek android devices.
Write IMEI: By using MTK Droid Tools you can restore and backup IMEI on MediaTek Android smartphones and tablets.
How To USE MTK Droid Tools (Tutorial)?
Make sure you have enabled USB debugging mode on your MediaTek android device.
Connect your device to your PC Via USB cable.
Install MediaTek drivers "If Not Installed Automatically'.
Now download the MTK Droid Tools and run it as Administrator.
MTK Droid Tools detects your device automatically and show the device info.
Now click on the "root,bakcup.recovery".
Here you can create backup, android root your android devices.
Choose one of the option from the list and follow the screen appear on your computer screen.
File Info:
Name: MTK Droid Tools
Dev: Unknown
Size: 12.5 MB
License: Freeware
Publisher: mygsmtech.com
System Requirements For MTK Droid Tools:
MediaTek Smartphone or Tablet.
Install PdaNet On your computer.
Windows Installed computer.
USB Data Cable of the smartphone or tablet.
MTK Droid Tools.
---
Download MTK Droid Tools Latest Version