Android Multi Tools is a free tool that allows Android users to unlock patterns, pins, passwords, face, gesture, and Gmail IDs from their Android devices. It is also known as an in-one Android unlock tool. There are more than 1.3 billion active devices in the world using Android OS. Most of them are secured by a pattern or pin lock. Sometimes people forget their pattern or pin lock and want to reset their phone. If you are one of those, then you are coming to the right place. It is one solution to this problem. Download Android Multi Tools v1,02b for unlocking and servicing your Android devices.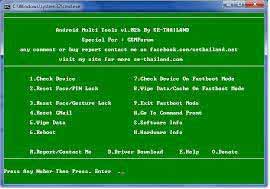 Android devices are an important part of our lives in the digital age we live in now. They store our precious memories, personal information, and help us stay connected with the world. However, there may be instances when we encounter difficulties accessing our devices due to forgotten passwords, pattern locks, or other issues. This is where Android Multi Tools come to the rescue.
What are Android Multi Tools?
Android Multi Tools is a software suite designed to provide a comprehensive set of functionalities for Android device management. It offers a wide range of tools and features that enable users to unlock, reset, and manage their Android devices effectively. Whether you're locked out of your device or need to perform advanced tasks, Android Multi Tools can be your go-to solution.
Features Of Android Multi Tools:
Check Device: This option is used to check the status of the device. If you want to check whether your device is connected to your PC or not, then use this option to check.
Reset Face/Pin Lock: If your device is locked with a password or pin lock. Then use this option to reset the password or pin lock.
Reset Face/Gesture Lock: Use this option to remove the pattern lock from your Android device.
Reset GMail: This option will reset your forgotten GMail account from your Android device.
Wipe Data: If you want to delete all data from your device, then choose this option for wipe data.
Reboot: Reboot your device in just one click. This option will reboot your device in just one click.
Check Device In Fastboot Mode: If you want to check your Android device in fast boot mode, then choose this option. It will check your device in fastboot mode.
Wipe Data/Cache in Fastboot Mode: 'This option wipes all the data or cache in Fastboot mode.
Exit Fastboot Mode: If you want to exit Fastboot mode, then choose this option. It will exit the fastboot mode from your device.
Go To Command Prompt: If you want to go to Command Prompt, then this tool allows sou to go there in just a single click.
Software info: If you want to check your device's software info, then select this option for checking the software info of your device.
Hardware Info: If you want to check your device's hardware info, then select this option for checking the hardware info of your device.
System Requirements:
Windows Installed PC.
USB Data Cable of the device.
USB Driver For Android Multi Tools.
How To USE Android Multi Tools v1.02b?
Using Android Multi Tools is relatively straightforward. Here's a step-by-step guide to help you get started:
Step 1: Downloading and Installing the Software
To begin, download the latest version of Android Multi Tools from a reputable source. Ensure that you are downloading from a trusted website to avoid any potential risks or malware.
Once the download is complete, run the installation file and follow the on-screen instructions to install the software on your computer.
Step 2: Connecting the Device to the Computer
After installing Android Multi Tools, connect your Android device to the computer using a USB cable. Make sure to enable USB debugging on your device by going to the Developer Options in the device settings.
Step 3: Performing Various Tasks Using the Tool
With your device connected and USB debugging enabled, open Android Multi Tools on your computer. The software will detect your device, and you'll be presented with a range of options and functionalities.
Select the desired task you wish to perform, such as resetting the device, removing a pattern lock, or managing firmware. Follow the on-screen instructions and prompts provided by the tool to complete the task successfully.
Precautions and Limitations
While Android Multi Tools offer remarkable capabilities, it's essential to keep certain precautions and limitations in mind:
Backup Important Data
Before using Multi Tools to perform any device management tasks, ensure that you have backed up all important data. This precautionary measure will help you avoid any potential data loss during the process.
Use Reputable Sources for Downloads
When downloading Multi Tools or any associated files, make sure to use reputable sources. This practice reduces the risk of downloading compromised or malware-infected software that could harm your device or compromise your data.
Be Cautious While Using Advanced Features
It offer advanced features that may have significant implications for your device. Exercise caution and thoroughly research the specific functionalities before proceeding with any advanced tasks to avoid unintended consequences.
Best Alternatvies
Video Tutorial:
Conclusion
Android Multi Tools provide a comprehensive suite of tools and functionalities to unlock, reset, and manage Android devices efficiently. With their user-friendly interface, extensive features, and broad device compatibility, these tools empower users to take control of their Android smartphones and tablets. Whether you're a novice or an experienced user, It can help you overcome various device-related challenges and enhance your overall Android experience.
FAQs
Can Android Multi Tools unlock any Android device?
Yes, It is compatible with a wide range of Android devices, including popular brands like Samsung, Huawei, and LG.
Are there any risks involved in using Android Multi Tools?
Android Multi Tools are safe when used properly. However, backup your data and use sophisticated features carefully.
Can I use Android Multi Tools to flash custom ROMs?
Yes, It flashes custom ROMs. This capability lets you customize and use the latest Android versions on older devices.
Is it necessary to enable USB debugging before using Android Multi Tools?
Yes, USB debugging needs to be enabled on your Android device before you can use Android Multi Tools. This option can be found in the Developer Options within your device settings.
Can Android Multi Tools remove FRP locks?
Yes, It provide the functionality to bypass FRP locks, allowing you to regain access to your device if you're locked out due to the Factory Reset Protection feature.